We are a boutique luxury destination wedding company based in Taormina, in Sicily, recognized as some of the most reputable and trustworthy companies in the area specializing in the production of high-end and luxury wedding celebrations.
In this article, we are going to introduce you to our luxury wedding planner. You can find out what is the difference between a regular wedding planner and what really makes a high-end wedding or a destination wedding different from the others.
Patrycja Wierzbicka, our in-house expert wedding planner, will walk us through the discovery of her job giving us some tips about wedding planning and unique events ideas both for grooms and brides and their guests.
We have interviewed her asking some of the most common questions brides and grooms that want to get married in Sicily have that will help you to understand if our services are the ones working for you too.
Reading on you will see also some of our events and venue we work with and how we can really make your day a special one (for you and for your guests too!). If you are interested in knowing how we can help you get in touch with us and schedule a call with our specialist.
What does it mean to be a luxury wedding planner?
Being a luxury wedding planner means planning one of the best and most memorable days in the life of a couple, side by side advising, designing, and taking care of every small detail.
What are the duties of a luxury destination wedding planner?
A luxury destination wedding planner works at the same time as a tour operator and as an event planner. Working on multiple fields can be challenging, but with a solid team and background, it leads to successful events.
The main duties are of course organizational skills, location scouting, and creating partnerships with the best vendors.
The wedding planner should also help the couple with all the bureaucracy and paperwork involved in a wedding, especially when the bride and groom have had previous marriages or have strict religious procedures to follow.
What are the challenges you meet when planning a luxury wedding in Sicily?
Whoever picks Sicily for their wedding, chooses Sicily for its authenticity, historical locations, stunning secluded churches and some of these locations might not be located in big cities, and in these cases, logistics might be challenging in terms of transportations and accommodation, especially when the numbers of guests is above a hundred and the clientele is high-end.
The weather plays a very important role as indoor backup spaces don't give justice to the beautiful outdoor areas of the venues.
Other challenging aspects are related to budget as it needs to be very clear from the beginning and it is important for the agency to stick to it and negotiate with vendors.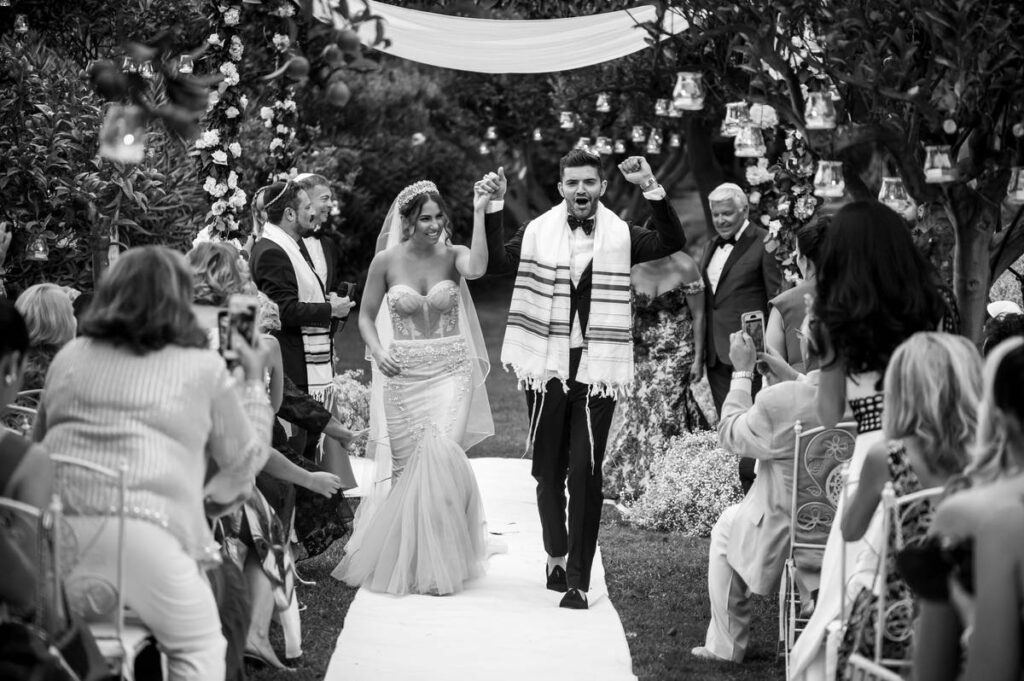 What kind of experiences are the typical "luxury" bride or grooms looking for?
When a couple decides to get married abroad, usually tends to have 2 or 3 days of celebrations: a pre-wedding party, the main wedding event, and a farewell brunch/party.
A pre-wedding celebration is an informal event, like a beach party or a traditional street party like the one we arrange in Castelmola.
The main wedding event is usually the one with the biggest production and might involve different locations such as a church for the ceremony and the party venue, so it is important for the wedding planner to have a structured team in order to have every single detail under control.
Arranging a great setup, having an amazing catering service and entertainment is the key for a successful event and what couples demand.
Once the main party is over, on the last day couples wish to have a more relaxing and laid back atmosphere to thank all the guests for participating. A brunch or lunch in a nice hotel or at the beach is usually a great choice.
Other experiences can involve tours for the guests, for example, a day on Mt. Etna or a boat tour along the beautiful Taormina coastline
What sets luxury planning services apart from average wedding planning?
What couples look for when they hire a wedding planner, is to have a stress-free wedding. We all know how challenging can be to be arrange any event, especially when the event takes place away from home.
Most of our clients come to Sicily just one or two times before the actual event, so having an onsite planner always ready to confront any setback that may come up, is very important.

So it is essential that the wedding planner agency is a licensed tour operator so that the groom and bride can communicate with just one agency, rather than working with multiple entities.
What are the key secrets of a luxury wedding planner?
The key secrets of a luxury wedding planner are first of all to establish an honest and clear relation with the bride and groom and set a realistic budget to follow.
Then of course is fundamental to always be fast and attentive in communications, set and respect deadlines, be creative, and have great organizational and negotiation skills in order to contract the best vendors with reasonable costs for the couple.
What are the most requested wedding venues in Sicily for luxury weddings?
The most requested event venues in Sicily are exclusive locations like noble palaces, private beautiful ancient villas, Ancient Greek Theater, the Four Seasons and Belmond properties, along with other special locations such as the Ancient Greek Theater, Castemola town, the gardens of Taormina, the Aeolian Islands, the Castello degli Schiavi (known as one of the Godfather movie filming location) or the nature reserve "Tonnara di Scopello ". The list is definitely longer and the decision is always taken with our clients as the venue has to match their wedding party idea too.
What questions brides or grooms should ask the wedding planner before committing with you?
I believe that nowadays is very easy to find a lot of choices when it comes to wedding planners so before starting it is important to know as much as possible about their background, ask for references, previous events, maximum number of guests handled.
When the wedding planner has been decided it is time to set the most important element of the event: the budget.
The bride and groom should have a clear idea of the budget as much as the wedding planner needs to understand if the budget is in line with the services requested.
Going beyond the budget is easy, so it is also important for the couple to understand and trust how the planner is going to negotiate with vendors.
What is the most memorable wedding you have organized in Sicily? Can you tell us some unique details of weddings you have organized?
Every wedding we have designed and every couple we have met has a special place in our hearts.
Our first big production wedding has, without any doubt shaped our work and attitude towards the luxury wedding world.
It was our first Lebanese wedding, 3 days of parties in 3 different venues and 250 guests for which we had to arrange transportation, accommodation, hair & make-up appointments, tours, and any kind of collateral services to the actual event.
The most exciting part was arranging a true Sicilian Street Party in Castelmola town, a small town very close to Taormina, involving a whole village cooperating to the success of the event!
During the event, there was such a great atmosphere of unity and a genuine cultural mixture between this Sicilian village and the Lebanese culture brought by the guests.
It was an emotional moment for everyone and since then, this party is one of our top wedding event experiences.
–
We would be delighted to explore with you your idea for a luxury destination wedding in Sicily. If you are considering a wedding on our beautiful island, get in touch with our team and let us share our knowledge with you!